The 2018 Dr Russell Cowie excellence in history education award
During four decades, Dr Hamilton (Russell) Cowie (1931-2015) was the most influential force in history education in Queensland. His impact was multi-faceted. He was a brilliant and innovative teacher at both secondary and tertiary levels, led the development of inquiry-based syllabuses, pioneered a new era in history textbooks, helped found the state and national history teacher associations, and presented countless lectures and workshops at conferences.
Known affectionately to all as 'Russ', he was a towering and legendary figure in teacher education, admired by the legions of university students whom he nurtured into their professional lives.
Russ was the inaugural patron and life member of the Queensland History Teachers' Association. He was promoted to Associate Professor by the University of Queensland and in 2013 was honoured by the nation with the Medal of the Order of Australia.
Dr Russell Cowie 'Excellence in History Education' Award 2018 was presented to Kevin McAlinden by Dr Brian Hoepper (QHTA Patron) and Ms Pip Macdonald (QHTA President) on the 30th June 2018 during the 2018 QHTA History Teachers' Conference. 
Certificate citation:
Awarded to Kevin McAlinden for his excellence and outstanding leadership in History education. He is recognised by the Queensland History Teachers' Association as a passionate and innovative History teacher with a profound sense of justice and extraordinary ability to inspire and nurture his students. Acknowledged as a learned, wise and generous man, teacher and leader, Kevin is greatly admired and respected by all those he has taught, and worked with, in both the school and tertiary environments. He has been instrumental in developing a love of history in his secondary students, has inspired his colleagues and tertiary students to become passionate and dedicated teachers and has given exemplary service and leadership to the wider history community.
Kevin McAlinden is deeply respected and admired as an inspirational teacher and leader and, as such, is extremely deserving of the 2018 Dr Russell Cowie 'Excellence in History Education' Award.
Comments by Brian Hoepper at the presentation, 30 June 2018.
I am so pleased to be presenting this award to Kevin. I've admired his work for many years and know how fitting it is that he is receiving an award that honours the legacy of Russ Cowie. I'd like to comment on just one specific aspect of Kevin's work, in a way that draws a connection between Russ and himself.
One of Russ Cowie's great achievements was his pioneering in Queensland of a Modern History syllabus that was – in Russ's words – 'broad frame'. Put simply, this meant that the syllabus should lay down clear principles of knowledge and process, but then entrust to teachers the professional responsibility for selecting the most appropriate and valuable content for their classroom curriculum. This approach began around 1970 – as Queensland took the bold and progressive step of abolishing external examinations – and reached its peak in the 2004 Modern History syllabus. It is no exaggeration to claim that – in implementing that syllabus – a teacher could choose to teach any topic within the huge field of modern history. Kevin understood the possibilities that offered.
Whenever I've described the value of that enormous professional freedom, I've inevitably referred to Kevin's work. In particular, I've described his development of a remarkably challenging and valuable study of the 'Mothers of the Disappeared' in Argentina in the 1970s and 1980s. It's a dramatic historical episode, both heart-breaking and heart-warming. It pitted the courage and determination of everyday women against the seemingly impregnable brutality of a dictatorial regime. It's a reassuring example of the possibilities of human agency driven by humanity and justice. And, as an interesting aside, a key tipping point came in 1978, when Argentina hosted the soccer World Cup. That brought the spotlight of international attention to bear on the situation in Argentina, and helped accelerate change.
'The Mothers of the Disappeared' offered Kevin's students a rich historical experience. It combined rigorous historical inquiry with an exploration of the deepest values that drive the human spirit. This is history teaching and learning at its finest, and a powerful example of what history teachers can aspire to, and what history students might expect. For me, this example of Kevin's work demonstrates why he is such a worthy recipient of the 2018 Cowie Award. As we move towards implementation of the new syllabus in Modern History, I hope that teachers will be able to find similar opportunities to practice the imagination, innovation and sense of purpose that Kevin has demonstrated so well. Congratulations Kevin on your most worthy receipt of this award. I'm sure that Russ Cowie would have heartily approved.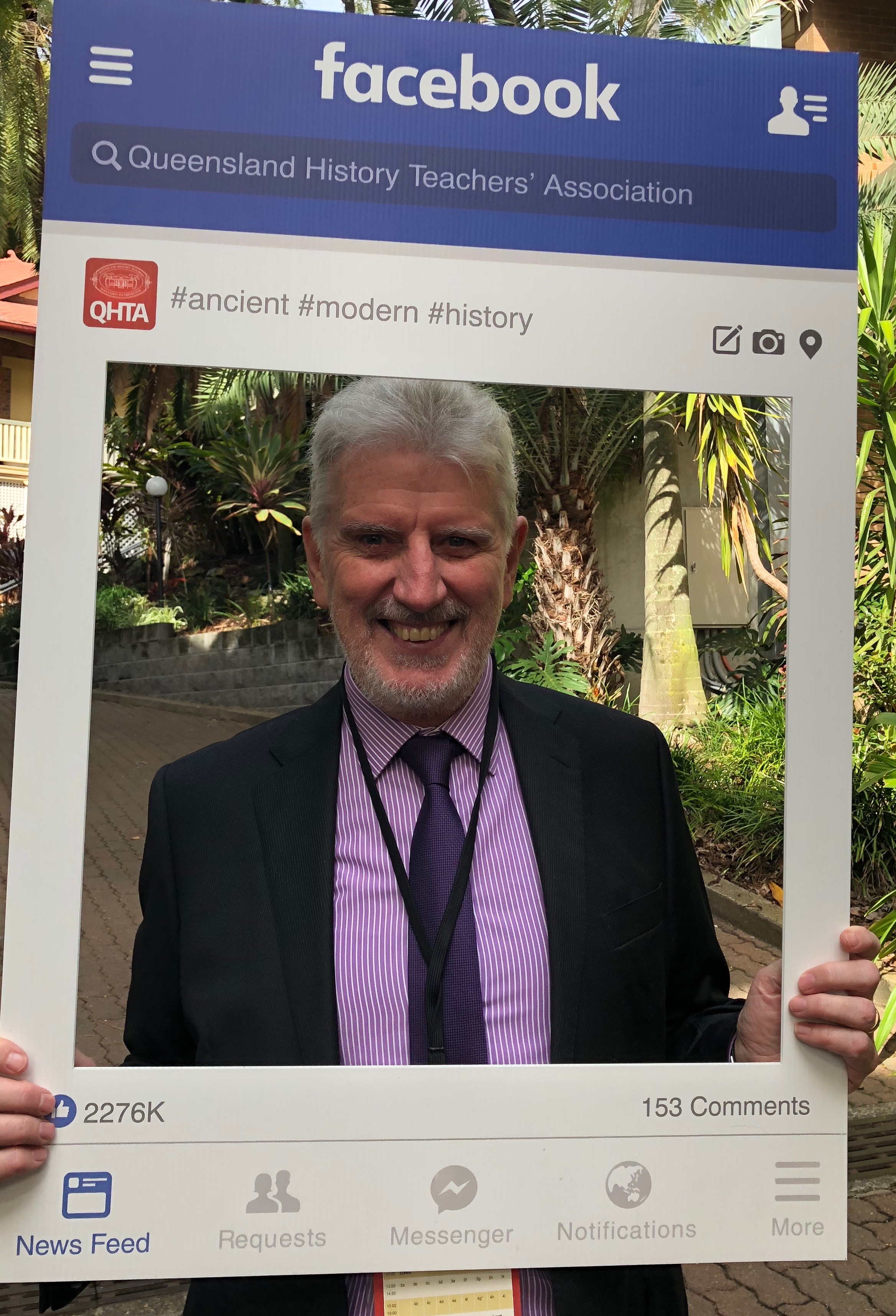 Acceptance Speech by Kevin McAlinden, 30 June 2018
The Dr. Russell Cowie "Excellence in History Education" Award, 2018.
Thank you Julie, Brian, Pip and the members of the QHTA for this wonderful acknowledgement. I am very proud to be the recipient of the Dr. Russell Cowie Excellence in History Education Award for 2018. I wasn't taught by Dr Cowie as many of you in the audience may have been but I have always been struck by the reverence with which he is held. My brilliant colleague, Irene Valentine loved to remind me of his amazing demonstration lessons and his pronouncement: "coverage is death!." I met Russ on a number of occasions in the 1980s when he was supervising prac teachers, curiously, this a role that I am now fulfilling at the University of Queensland. Russ visited my Year 11 Modern History class at Gregory Terrace and was somewhat taken aback when my students asked him to do a book signing of Crossroads One. He graciously obliged. A second memory comes to mind which made both of us chuckle: he had advised a young female prac teacher to try some role play with the class – that same Year 11 Modern class, studying Nazi Germany. The day came, Russ and I sat at the back of the room, the class waited with anticipation and then, the young lady goose stepped her way into the class wearing a full length black leather coat and long black leather boots. She approached the boy in the front row and said: If you haven't got your homework done, I am going to whip you to within an inch of your life. To which the student quickly replied: "Oh promises, promises Miss." We have all come across such wits at one time or another.
I am very conscious of the full program that you have before you today, so I will make just a few observations if I may.
On 15th August 1957, the IRA blew up the Belfast to Dublin train line just half a kilometer from my home. I was eight years of age and if I hadn't already realized it, I realized then, that I lived in a very divided community where violence was considered an appropriate response to political differences and where History was passionately contested. 1690, 1798, 1845, 1916 – simply uttering the year gave voice to a known history and placed one firmly in a sectarian tradition and divide. For most people in N. Ireland, History is deeply embedded in the DNA and it came as no surprise to me that History and History education would become an integral part of my entire adolescent and adult life.
I have striven as a History educator to rise above the partisan traditions from which I grew. I may not always have succeeded in this and indeed my students were often quick to point this out to me when I ventured into the history of the British Empire. However, I made, and make, no apologies for challenging dominant narratives of history and for seeking to give voice to the voiceless. When I began teaching History in Queensland in 1976 at Balmoral High School, I was particularly struck by the absence of references to Indigenous peoples, women and minority groups in the Australian History texts that were provided to me. I sought from that time on to redress this imbalance through my teaching.
The 2004 Modern History Syllabus provided the perfect opportunity for doing this. This Syllabus was visionary and I want to pay tribute to the writers of that Syllabus and especially to Dr. Brian Hoepper for contributing Studies of Hope, an enlightened theme that influenced so much of the work that I did with my students in the sphere of non- violence and trans- national history. The Syllabus did not mandate Indigenous History but its strong recommendation saw schools across the State take up the cause and I acknowledge the QHTA for supporting Indigenous Studies by creating a separate category in the annual Essay writing competitions for students in the State. My students were regular contributors to this section of the competition.
Over the years, I received numerous presents from students, mostly chocolates, wine and the odd bottle of Single Malt. However, one gift stands out for me – in 2012, my Year 12 Modern class presented me with a book of essays – their own written research assignments on Indigenous History. The task had been to write a chapter for a book entitled "We Have Shadows in our History" and so, they created a book. What is very special about this collection of essays is that it comprises a range of essays from A Grade to C Grade. Each girl was proud of her achievement no matter what the grade awarded was. Also, while many of these essays dealt with the "big" well known issues – the 1967 Referendum, The Stolen Generation, Mabo – others delved into lesser known topics such as the Smallpox outbreak in Sydney in 1789, the Queensland Native Police, The workings of the Aboriginal Protection Act, White women Indigenous Rights activists of the 1920s and 30s. Many of the students accessed the State Archives and worked with original documents, some of which had not been used by researchers before them. I trust that the new syllabus will continue to provide such rich opportunities for research and investigation.
I am conscious that the new Syllabus is on the cusp of implementation and that some, or maybe even many of you, have reservations about it. So, I think it timely to recall that when I was appointed State Chair in 2001 for the trial and later full implementation of the current syllabus, I received lots of complaints from anxious teachers. How can you possibly combine Knowledge and Understanding with Communication; how can you measure Reflection during the research process", what on earth does "Representativeness" mean? My advice at the time was – make the syllabus fit your teaching, don't make your teaching fit the syllabus and this is still my advice today. Maintain the commitment to "inquiry-based" learning, while embracing the new and making it work. The 2004 Syllabus was embedded smoothly because teachers put aside their concerns and made it work. The writers of the new syllabus had constraints placed upon them from the outset, constraints not felt by the earlier writers. They need your full support.
For the sixteen years that I was State Chair, I worked closely with a number of people so, I would like to take this opportunity to thank and to acknowledge the professionalism of the State Panel members, District Review Panel Chairs and all panellists with whom I worked and who kept at the forefront of their minds, that their task was to support school judgements and who made the system work. I would like to thank and acknowledge the officers of the QCAA and its earlier iterations, for their immense support to me personally and to all History teachers in Queensland: in particular, the late Marjorie Gibson, the late Stuart Tasker, Leanne Rolf, Mary-Anne Vale and Lyn Sherington. I would like to thank and acknowledge my colleagues at Loreto, Terrace and Balmoral, from whom I learnt so much. I would also like to thank and acknowledge my wonderful wife Clodagh and my family for being a continual stand for me. I can't get away from History- today is our 43rd wedding anniversary.
To you the History teachers of Queensland. I wish you every success as you venture into the new syllabus and the uncertain world of external assessment. Your role as History teachers is never more pivotal that at this present moment where mistruths are hailed as valid positions and the dark forces that we thought belonged to the 1930s seem on the rise again. In 1944, the US Vice President, Henry Wallace, warned Americans of the possibility of Fascism surfacing there: He declared: "A fascist is one whose lust for money or power is combined with such an intensity of intolerance towards those of other races, parties, classes, religions, cultures, regions, or nations as to make him ruthless in his use of deceit or violence to attain his ends." You have some work to do in your History classes but, then, if not you, then who.
As History teachers you are blessed with such rich narratives and stories to tell, to investigate and to challenge. You also have your "own" stories to tell and these should not be underestimated. In the preface to the collection of essays that I referenced earlier, my students wrote this: "As much as we loved learning about Gandhi, The Cuban Missile Crisis and Nazi Germany, there was nothing we hoped for more than for you to wander off into another time in your life and share it with us. Your flair for weaving History with your personal story made it so much more enjoyable to learn."
So, be original. Avoid conformity. And in the words of the poet, Seamus Heaney:
Keep at a tangent.
When they make the circle wide, it is time to swim
Out on your own and fill the element
With signatures on your own frequency
Echo soundings, searchings, probes, allurements
Elver-gleams in the dark of the whole sea.
Thank you.