2023 Queensland History Week
22 May – 26 May 2023
WELCOME TO QHTA HISTORY WEEK

Student History Week  Activities
Can we ask that schools/teachers who use these resources take pictures or provide feedback on the swap and share facebook page using the #QldHistoryWeek tag. If you incorporate other activities we would love to hear about these and see photos. Upload to social media and/or email qhta@qhta.com.au so we can see that is happening in schools and maybe include in our 2023 publications.
The QHTA would like to thank the following people for their work in developing these resources:
Kathleen Collin, Brisbane Catholic Education, QHTA Management Committee (History Week coordinator)
Kristina McColm, Humanities Teacher, Woodridge State High School
Diana Platt, Curriculum Leader Humanities, Carmel College
Student Activities
2023 QHTA History Week Trivia 1
2023 QHTA History Week Trivia 2
Teacher History Week Activities
23 May 2023 – History Networking at the Pub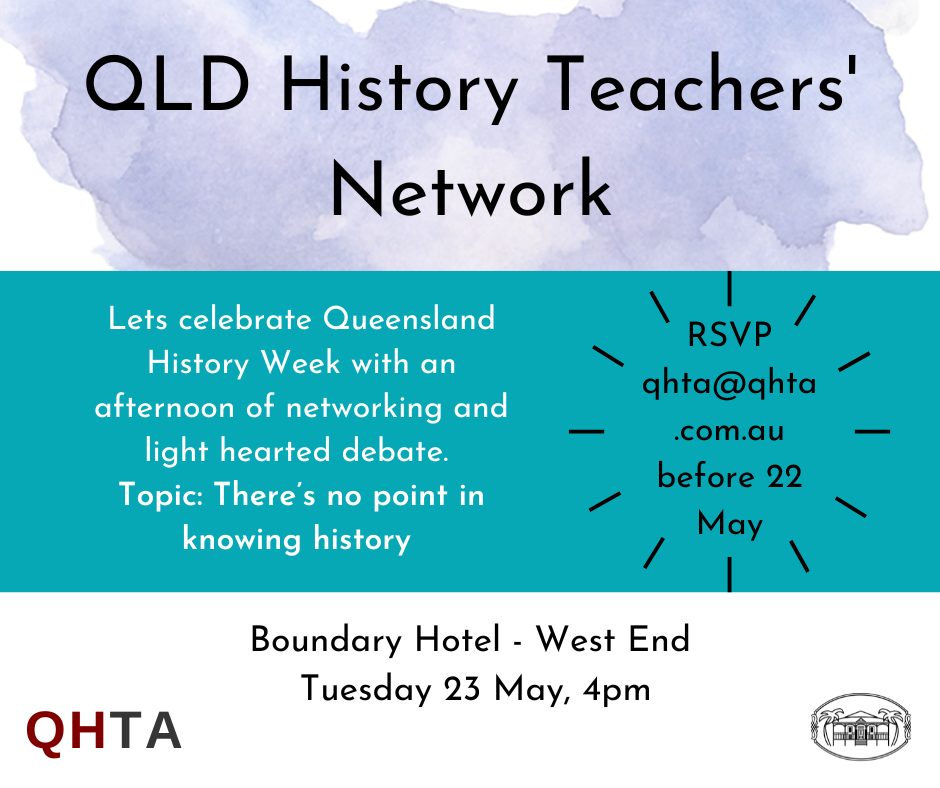 24 May 2023 – History TeachMeet during Queensland History Week
Looking for high energy ideas to get your students thinking – and loving – History? Want to celebrate History through incursions, excursions, at subject selection time? Or bring energy and inspiration to your classroom everyday? So join us online for lots of quick-fire ideas, all in 60 minutes – everyone welcome!
When: Wednesday 24 May | 4.30pm to 5.30pm AEST. Cost: Free. Enquiries: Louise Brown lbrown@stmargarets.qld.edu.au
Download Flyer (PDF 396.6KB) Register: //www.stmargarets.qld.edu.au/teachmeet
25 May 2023 – Term 2 QHTA Teacher Webinar Program
Thursday, 25 May 2023. 4:30-5:30pm – Unit 2: Agrippina – presented by Dr Kit Morell, University of Queensland. Webinar flier. REGISTER FOR WEBINAR HERE (Cost free)