Closes Friday, 25 August 2023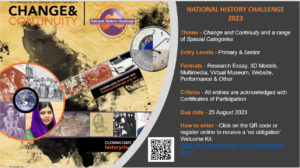 The National History Challenge is a research-based competition for students. It gives your students a chance to be an historian, researching world history, examining Australia's past, investigating their community and exploring their own roots. It emphasizes and rewards quality research, the use of community resources and effective presentation.
The theme for 2023 is 'Change and Continuity'. Students produce entries in one of three formats: an individual research paper, a museum display, or other formats – such as a multi-media format (audio/video/website), a performance, or any other form of creative representation. Except for the individual (one person) research paper, students work alone or in groups of up to four people.
Due Date: Friday, 25 August 2023

More information / registration details at //www.historychallenge.org.au