The Department of Veterans' Affairs (DVA) is proud to host the Anzac Day Schools' Awards. This national competition is now open and recognises the work of students, teachers and schools to engage with veterans and honour Australia's wartime history.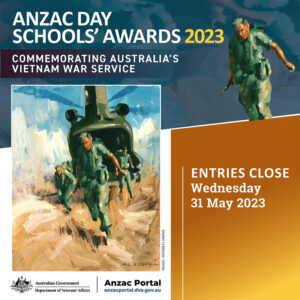 To encourage student participation and a deeper understanding of this year's theme, schools are encouraged to develop interactive learning experiences as an alternative to school assemblies and speeches for entries in 2023.
The theme for 2023 is 'Commemorating Australia's Vietnam War service' as part of the 50th anniversary of the end of Australia's involvement in the Vietnam War.
Your entry must focus on the Vietnam War and the service of Australian veterans.
Entries close at 5 pm AEST Wednesday 31 May 2023. More information at //anzacportal.dva.gov.au/education/anzac-day-schools-awards

Let loose your students' creativity.
Ideas for your school's entry:
A podcast with veteran interviews for students in other year levels.
A museum exhibition design for a gallery walk or virtual tour.
A video chronicling the life and contributions of Australian Vietnam War veterans.
A website to share veterans' stories and student investigations.
A class artwork, mural, garden or memorial to reflect an aspect of service in the Vietnam War and commemoration.
Want help with your research? Use our resources:
Other helpful websites:
You can also visit the Australian War Memorial website for photographs, articles and archival footage.
Past winning entries have included student-created videos, websites, plays, debates, murals and memorials. Every year we are amazed at the creativity, dedication to the theme and respectful contributions from students and teachers.
Now is the time to start preparing your entry in this year's awards